NOW THAT'S WHAT I CALL WAUKEE
Couldn't make it to the 2023 Waukee Area Chamber Annual Banquet? We have your whole recap here!
Thank you to everyone who attended the 2023 Waukee Area Chamber of Commerce Annual Banquet presented by MidWestOne Bank.
More than 250 Waukee Area Chamber members, business owners and leaders, and local residents gathered on January 18, 2023, at the Hilton Des Moines Downtown to celebrate our community's wins in 2022 and take a look ahead at 2023.
Photos from the 2023 Annual Banquet can be found here.
The evening kicked off with a social hour, followed by dinner and a program featuring our EmCee Amber Martin, speeches from members of the Chamber Board of Directors, recognition of award recipients, and a keynote by Dan Meers, Kansas City Chiefs Mascot.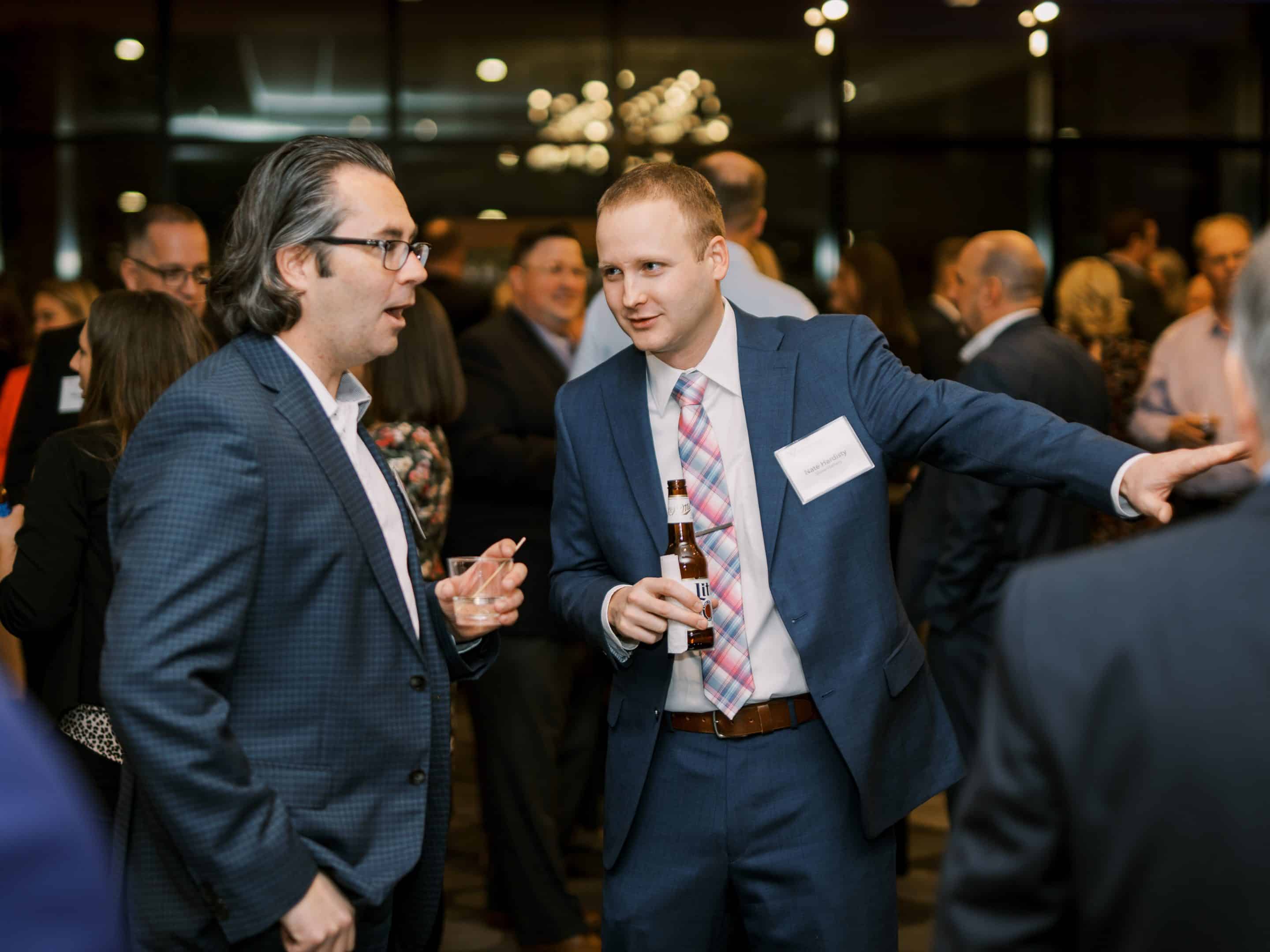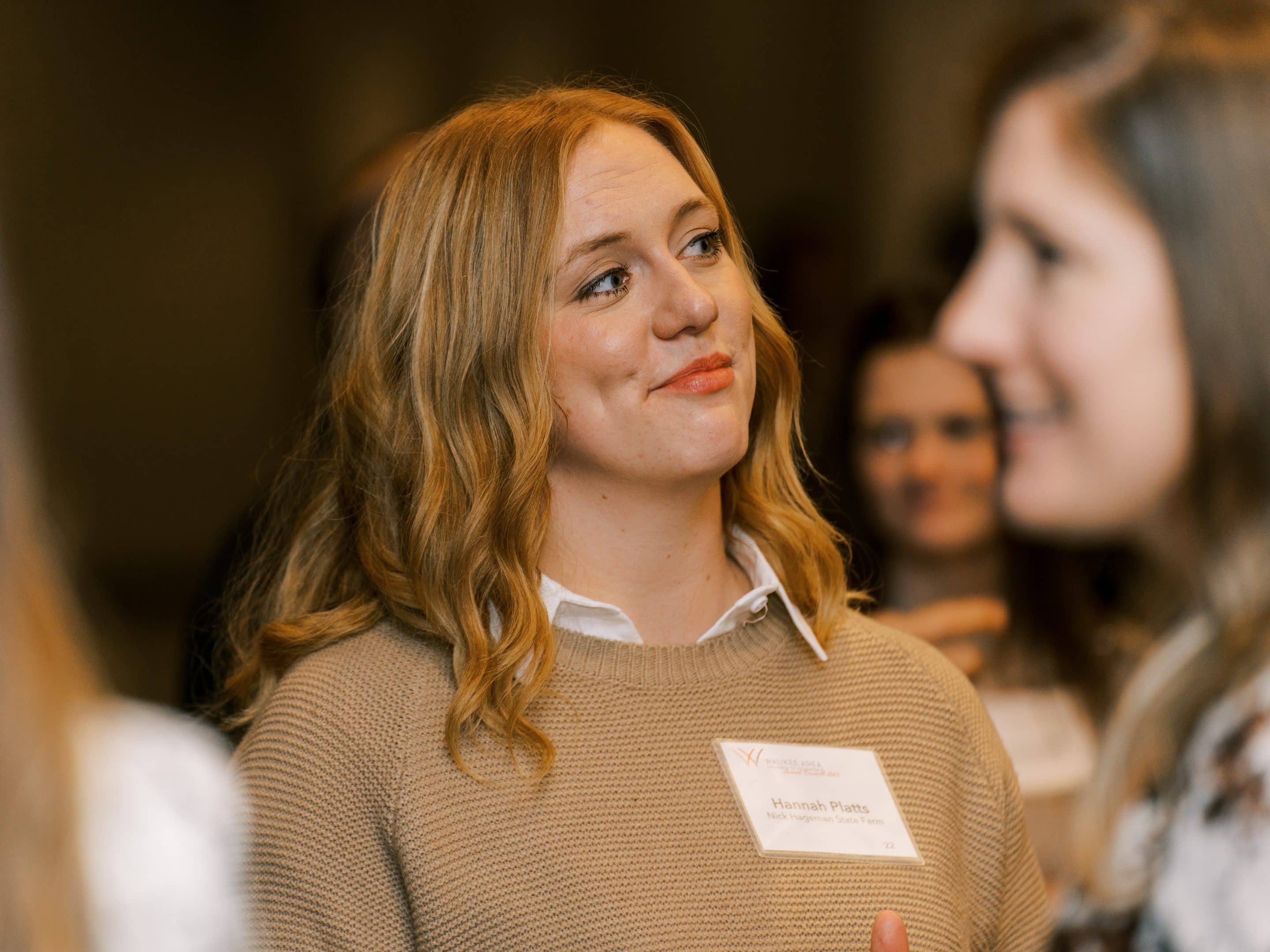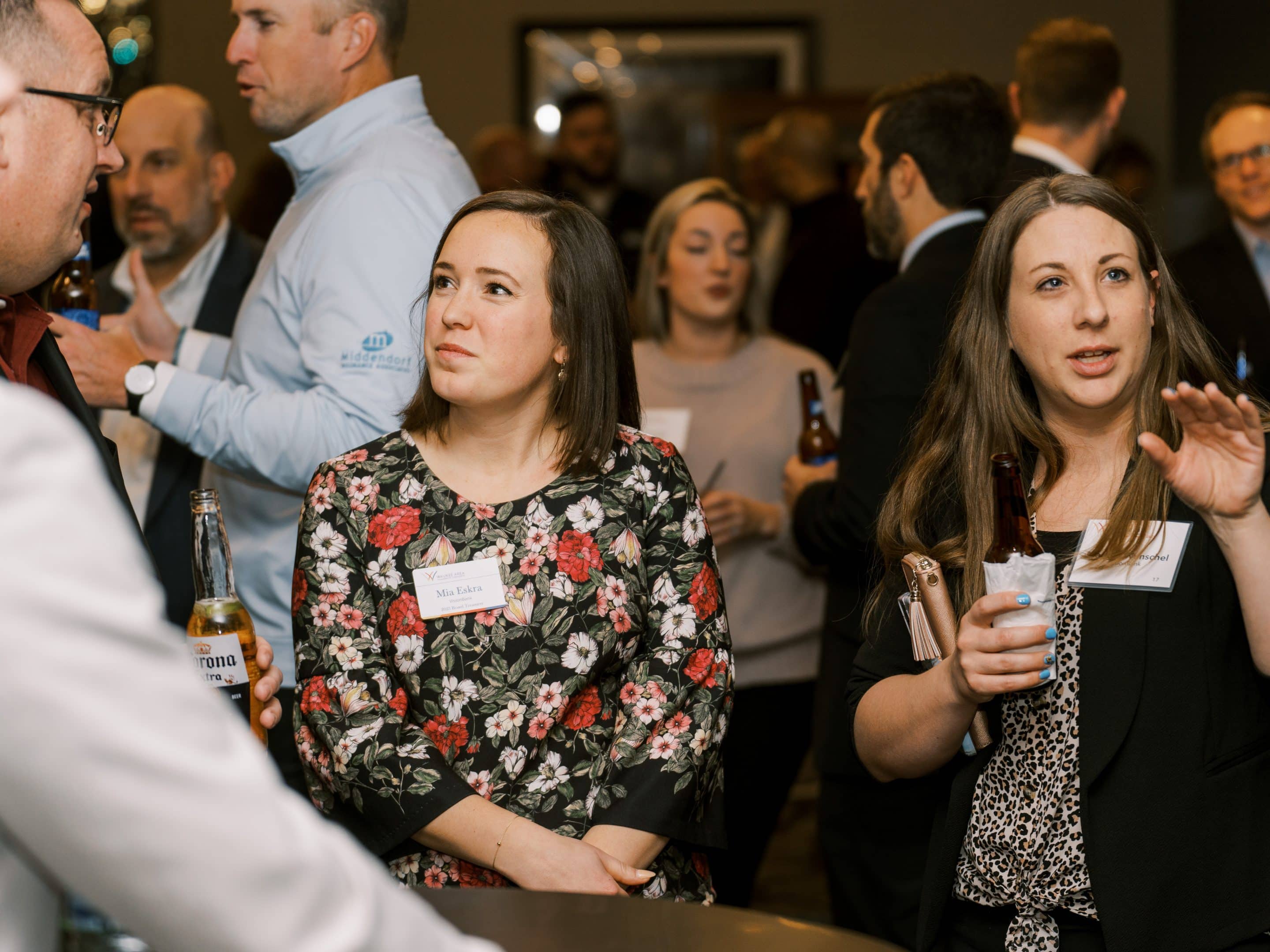 Social Hour, sponsored by Hy-Vee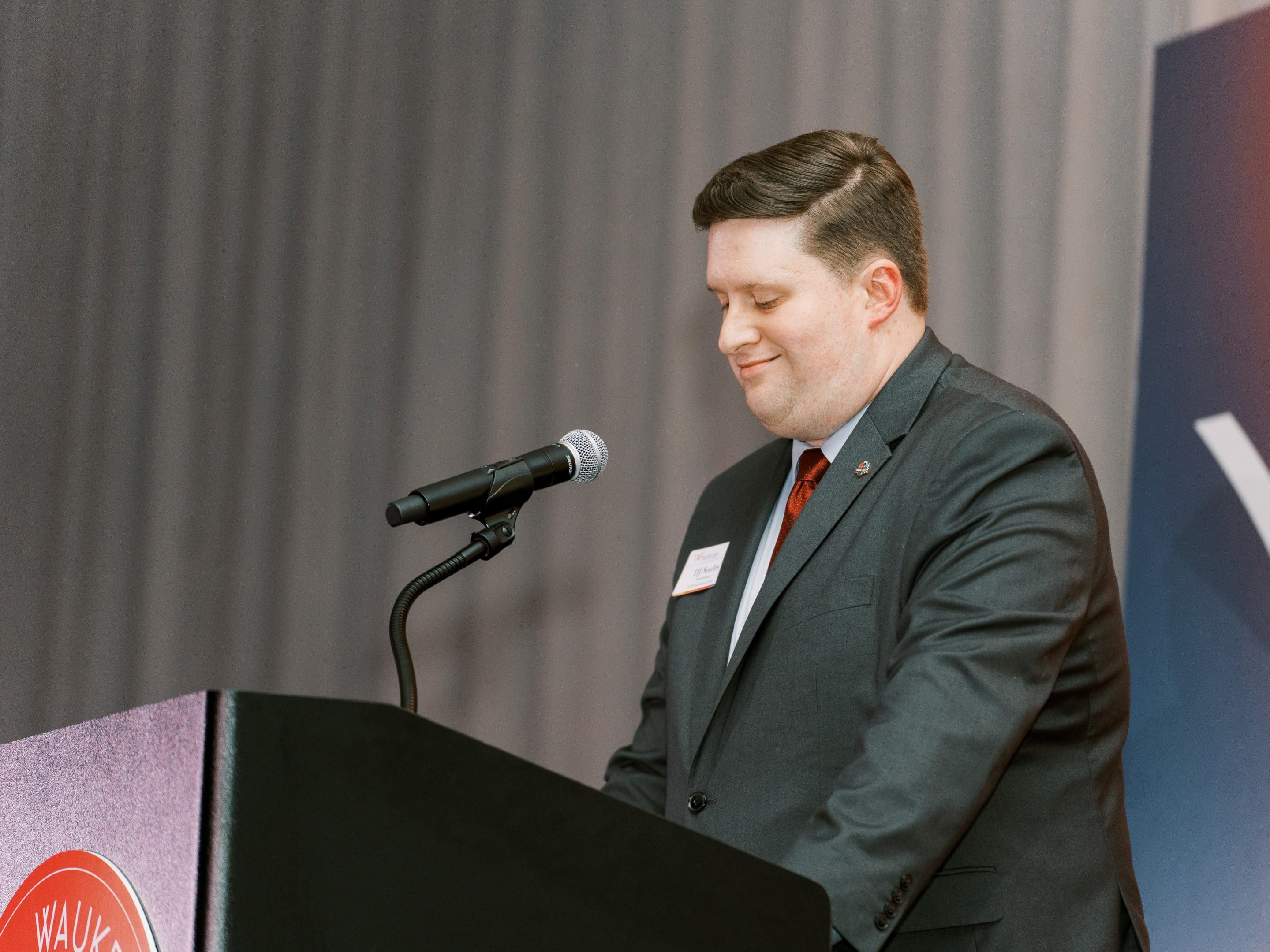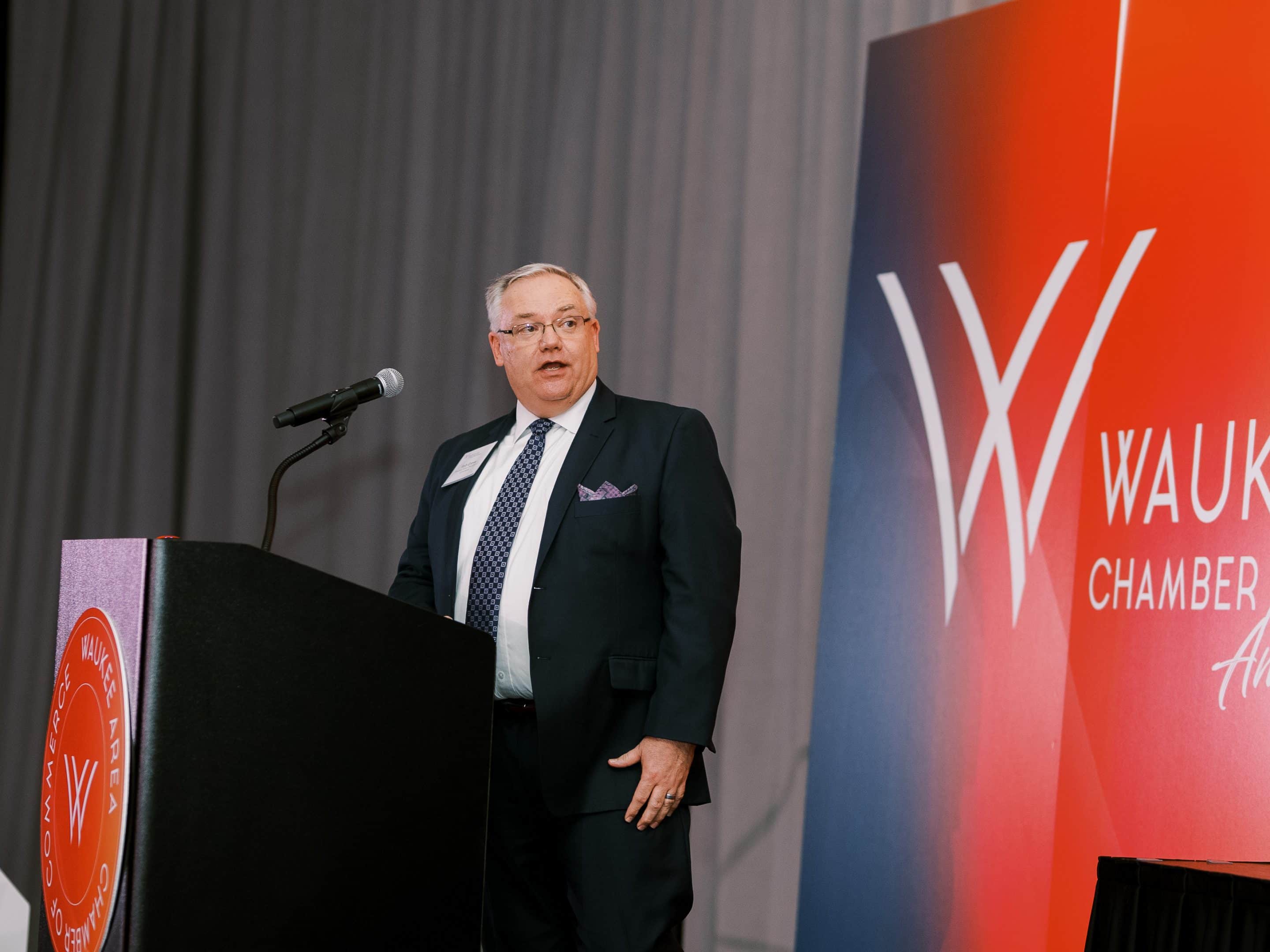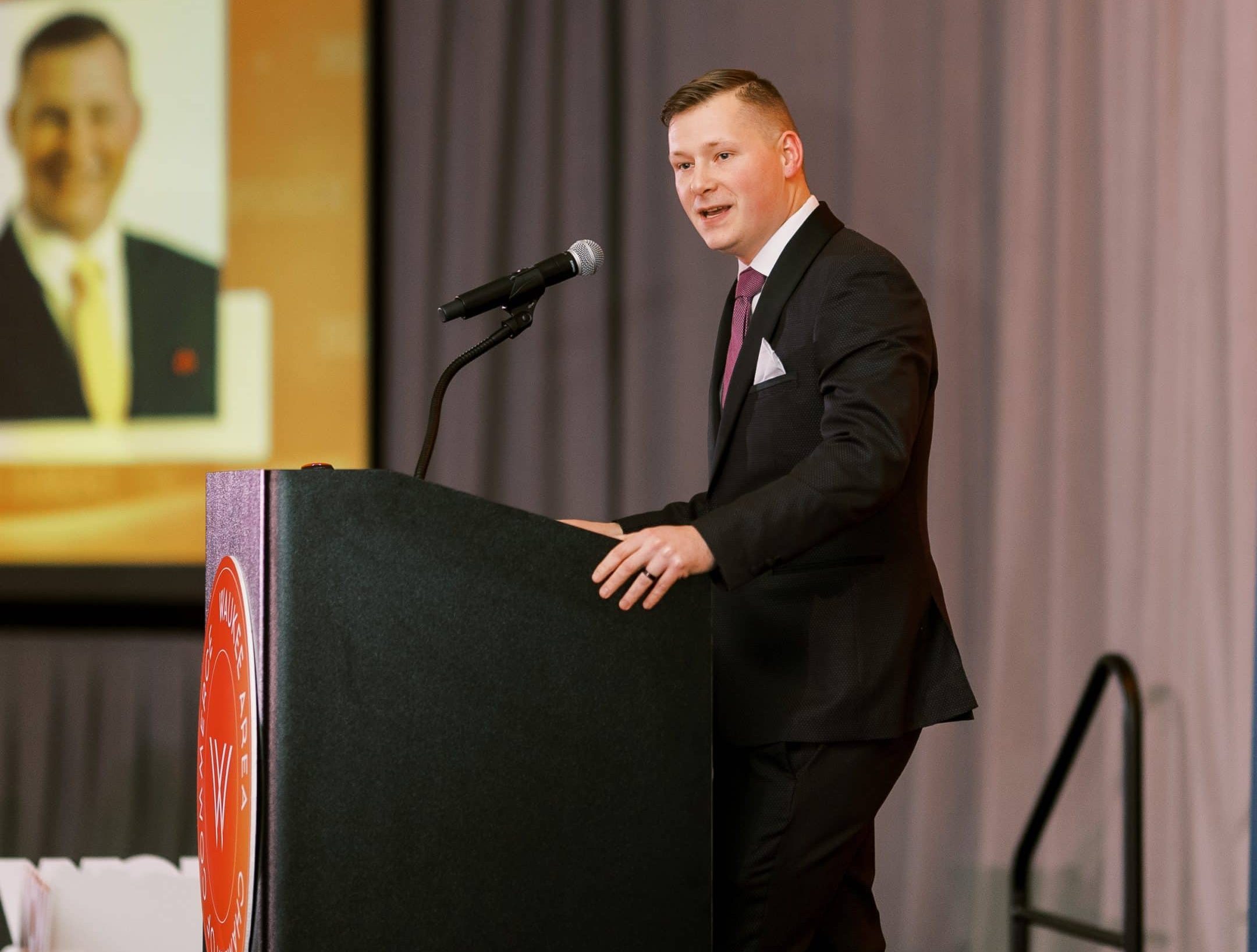 The Chamber: DJ Soults, Rob Grove, and Michael Bartos
The Chamber opened up the evening with DJ Soults, Past Board Chair, highlighting all the accomplishments of 2022 and recognizing our outgoing board members:
Amy Engstrom, 2 Men & A Dame
Cal Oraw, Individual Member
Hassan Atarmal, Fresh Mediterranean Express
Laura Mull, West Bank
Steve Rogers, IH Mississippi Valley Credit Union
Travis Gaule, Edward Jones
Rob Grove, 2023 Board Chair outlined the chamber's goal for 2023. He followed by thanking DJ for his service as the 2022 Board Chair, then announced our incoming board members:
Brett Braafhart, Professional Solutions
Emily Schultz, Business Publications Corporation
Gina Campos, AM Apparel
Joey Hinke, Miller, Fidler & Hinke
Megan Rush, Holmes Murphy
Nate Stewart, Waukee Hy-Vee
Randi Willard, MidWestOne Bank
With a "Gitty up," Michael Bartos, President & CEO, took the stage and highlighted the Chamber and its member's accomplishments from 2022. He also talked about how NOW is the time for our business community to hit a new high note.
NOW is the time to step up by bring your questions and challenges our way and we will find answers and resources to support you!
NOW is the time to make a difference by providing your employees professional development opportunities through the different Chamber events and the Waukee Young Professionals.
NOW is the time to join a committee, be active in the Chamber community.
NOW is the time to cheer on our local business owners and leaders at Chamber events and ribbon cuttings, celebrate progress and milestones, share expertise, and contribute to our community… together.
                           
The Chamber's Partners: The City of Waukee and the Greater Des Moines Partnership
City of Waukee Mayor Courtney Clarke highlighted all the growth and accomplishments Waukee has seen in the past year. She also highlighted the agenda for this upcoming year.
Meg Schneider, Senior Vice President of Business Resources and Community Development at the Partnership, talked about how much impact and growth Waukee has made in the Des Moines metro. She briefly highlighted 2022 at the Greater Des Moines Partnership and was excited to share upcoming goals.
        
Keynote Speaker: Dan Meers, Kansas City Chiefs Mascot
In his engaging keynote presentation, Dan Meers shared how life is like a coin, you can spend it anyway you wish, but you will only get to spend it one time, so spend it wisely.
For the past 33 year, Dan has served as KC Wolf, the mascot for the Kansas City Chiefs. He shared his story of coming within inches of his life and the important lessons he learned during his long recovery. He encouraged everyone to to strive for the best in life and to enjoy it each and every step along the way.
And the Award Winners are…
The annual banquet highlights Waukee Area Chamber members who have made an impact, both within the Chamber and our community, in the past year. Our 2022 award recipients include:
     
2022 Young Professional of the Year: Megan Rush
Waukee Young Professionals empowers young professionals who live or work in Waukee to come together, build relationships, and make a positive impact within the local community.
This year's Waukee Young Professional of the Year, Megan Rush, had a tremendous impact on the direction and growth of Waukee YP in 2022.
She was responsible for adding new events and professional development opportunities for YP members, and under their leadership, membership and event attendance more than doubled. Her can-do attitude and infectious enthusiasm have set the stage for another record-breaking year for Waukee Young Professionals.
 
2022 Citizen of the Year: Todd McDonald
The Waukee Citizen of the Year Award recognizes Waukee area residents for their dedicated volunteer efforts that contribute to making Waukee a great place to live, work, play, and learn. This award is a joint effort between the City of Waukee and the Waukee Area Chamber of Commerce.
Todd McDonald has gone above and beyond as a volunteer and leader within our community. He is described as a "humble community servant." Todd tirelessly volunteers his time on the board of the Waukee Family YMCA, coaching youth sports, and serving as president of the Waukee Betterment Foundation. In his work for the Waukee Betterment Foundation, he played a central role in fundraising for Triumph Park, Waukee's new 66-acre park that features an EPIC Inclusive Playground.

2022 Volunteer of the Year: Jane Angstman
Many individuals put our community first, but one specifically rose to the top and deserve to be recognized.
Jane Angstman volunteers her time on both the Chamber's Ambassadors Committee and Economic Development Committee. She lends a helping hand at Chamber events and helps coordinate new events, all while championing the Chamber as they work behind the scenes of many of the new buildings in our local business community.
Jane never asks, "Who can do this?" Instead, they ask what they can do to help!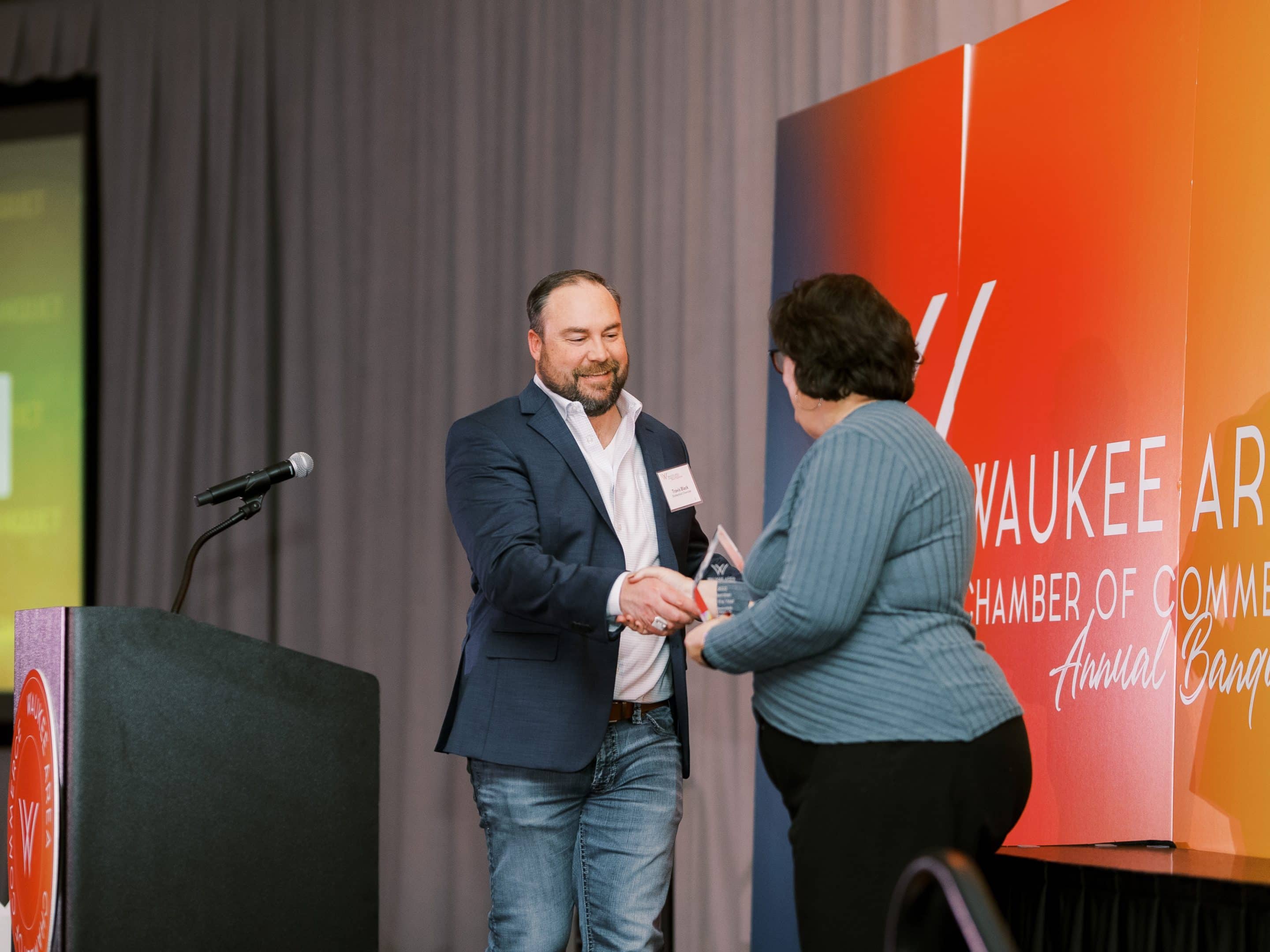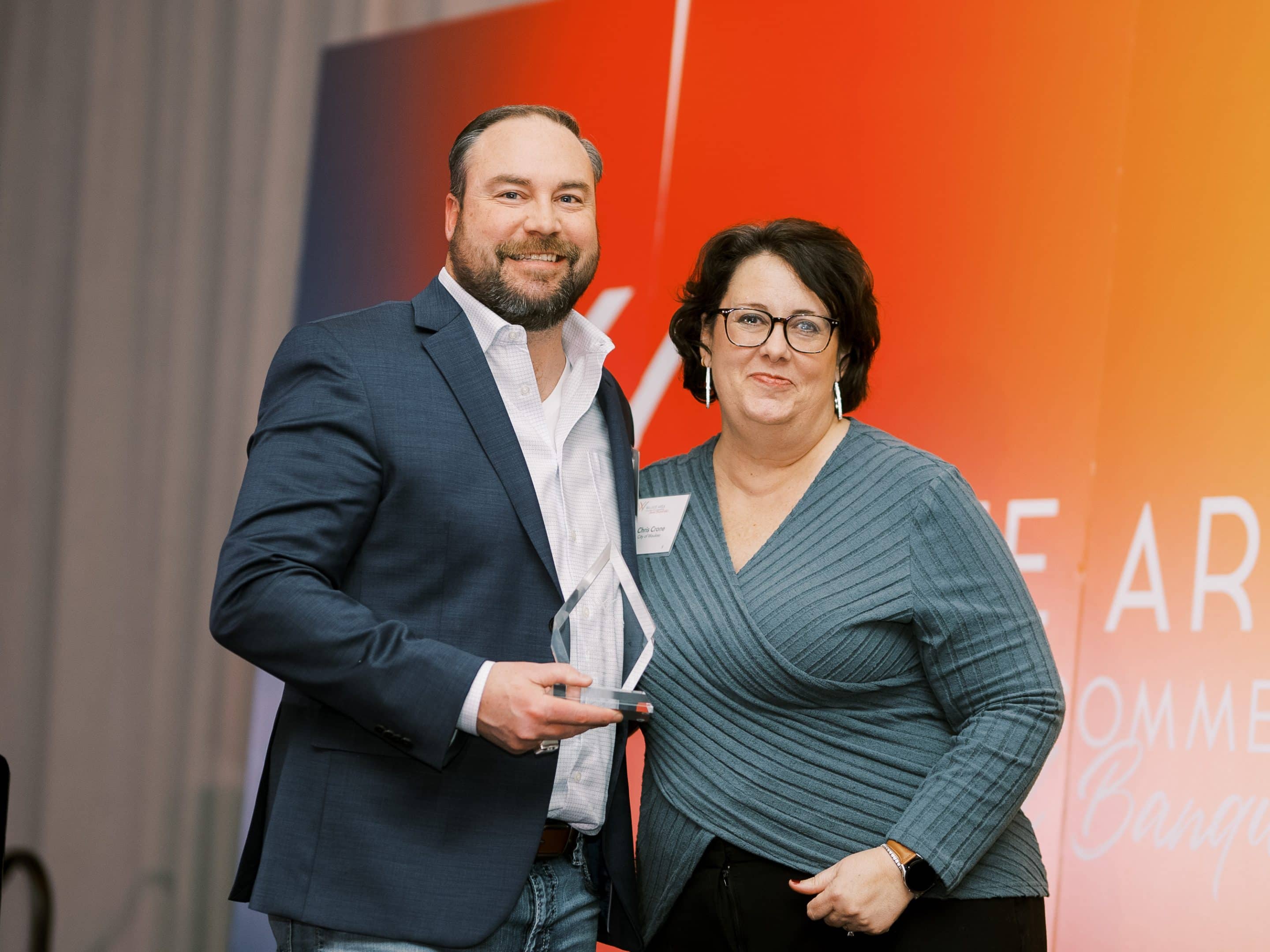 2022 Large Business of the Year: Shottenkirk Chevrolet
Shottenkirk Chevrolet is no stranger to supporting our community. Their community involvement is extensive. They serve the Chamber by sponsoring multiple events, including the Waukee Chamber Annual Golf Outing and the Annual Banquet, they support our schools by giving a one-year vehicle lease to the Teaching Excellence award winner, along with a $1,000 grant toward their classroom, and they support our community by hosting events and contributing to Triumph Park.
As one nominator put it, "They really step up to make their employees, customers, and community feel appreciated."
 
2022 Medium Business of the Year: Elite Eye Care
Elite Eye Care is passionate about contributing to Waukee, whether it's holding supply drives for the Waukee Community School District, playing basketball to support the Waukee Community Schools Foundation, or sponsoring the Chamber's Annual Golf Outing.
As the nominee shared, "All of the doctors are heavily involved in the community and go out of their way to show support for local non-profits."
 
2022 Small Business of the Year: Nick Hageman State Farm
Nick Hageman State Farm has made it a priority to support our community and get involved with the Chamber. They have sponsored multiple events and show up with ideas and a drive to support others.
As one nominator shared, "They symbolize what it means to be a part of the community."
 
2022 Non-Profit of the Year: Waukee Community Schools Foundation
The Waukee Community Schools Foundation has created a lasting impact in many areas of our community in 2022 alone. They've brought creative, meaningful ideas to life supporting Waukee's students, teachers,  and families through food assistance, classroom and teacher grants, health initiatives and supplies, academic opportunities, transportation, community events, and more.
There are many comments we could have pulled from to share the specific impact this non-profit has made in 2022, but we'll summarize their commitment to Waukee with this: "One of the greatest impacts is the ability to see a need, supported by hearts of service, and do whatever it takes to either fund or make a connection, or both, to bring it to life for the benefit of our students, staff members, and community."
Congratulations to all of our 2022 award recipients!
Thank You to our Sponsors
The 2023 Waukee Area Chamber Annual Banquet would not have been possible without our sponsors. Thank you for your support!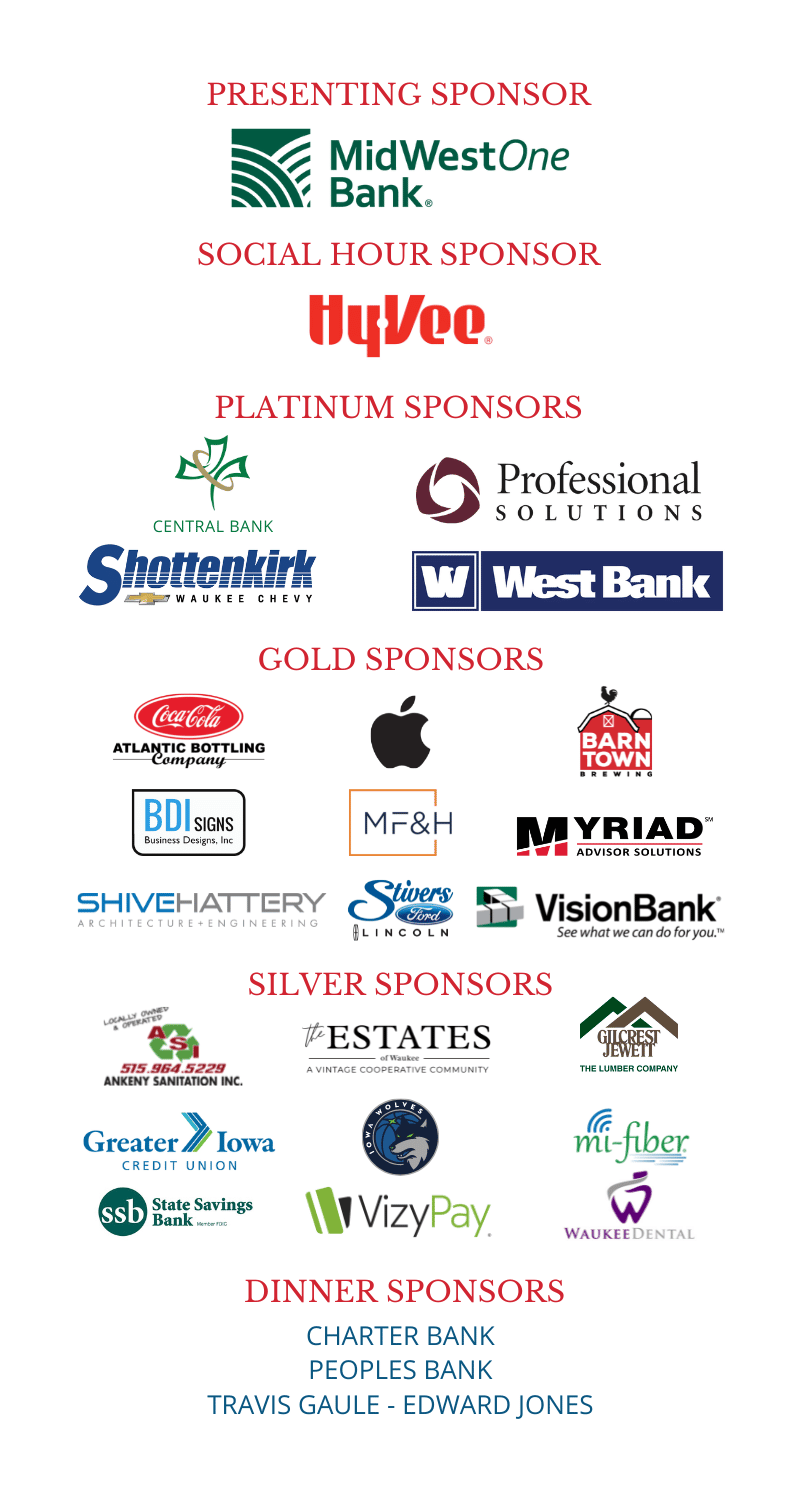 Special Thanks to:
Terry Snyder Photography
MDL Events
WACC Events Committee
WACC Ambassadors
City of Waukee
Greater Des Moines Partnership
Amber Martin